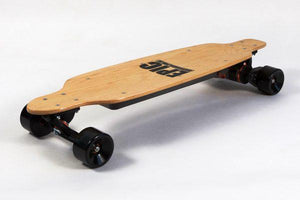 Benefits Of An Electric Cruiser Skateboard
Combine the comfort, stability and grip of a cruiser with the ease of an electric motor with an electric cruiser skateboard. These skateboards are becoming more and more popular with beginner and pro skaters alike, and it's not difficult to see why. Read on to find out some of the benefits of an electric cruiser.
Cut Down On Your Commute
Are you spending too much time stuck in traffic? With an electric skateboard, you'll be able to cut through the congestion and get where you need to be in no time, while also enjoying the fresh air on the way.
Enjoy The Ride
As electric boards aren't powered by legwork, you'll be less tired during your ride. And you won't need to worry about long charging times; plug it in for about 4-8 hours overnight, and you'll be on your way. Cruisers afford great comfort and stability which, when combined with an electric motor, is perfect if you're looking to develop your skills on the board.
Save Money
If you're finding your fuel expenses and the costs of car maintenance adding up, with an electric cruiser, you can rest easy. An electric board is economical and energy-efficient, so you'll be able to travel comfortably without burning a hole in your pocket.
Move More
If you find yourself getting too busy to exercise, and preferring to rest rather than work out after a long day, an electric cruiser might be the answer. With an e-board, you'll get the much-needed movement your body and mind need. The constant focus of navigating your board and shifting your weight around involves movement and balance.
Have Control Over Your Speed
With its installed electric speed controller (ESC), your board will give you full speed control. Unlike the rapid descent of a manual model, e-boards give the option of travelling steadily, whether you're riding on flat or hilly terrain.
Invest In Versatility
Electric cruiser boards can be ridden on any sort of terrain, depending on wheels, and they're amazingly portable. You can also easily switch between manual and electric operation, so whether you want to perform great tricks or enjoy a smooth, steady ride, you'll truly have the best of both worlds.
Do Your Bit For The Environment
Unlike a car, an electric skateboard does not leave much of a carbon footprint. A longer-range electronic skateboard won't need daily charging, so it also won't require a lot of electricity - helping you save the planet.
Get In Touch
For a quality electric cruiser skateboard, give the team at Epic Skateboards a call. With passionate skateboarder Adam at the helm, our team is committed to creating outstanding, innovative skateboards to ensure the ultimate ride for our clients.
With their easy agility, our electric cruiser boards are the perfect choice if you want to cruise in style and improve your skate skills. Give us a call today at 0402265448, or visit our site to learn more about our wide range of products.
---