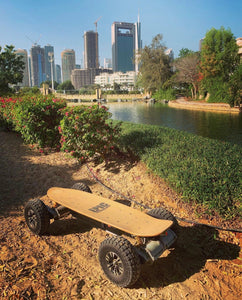 Street or Off-road Electric Skateboards
What's better Street or Off-road Electric Skateboards?
This is an important factor to consider when buying an electric skateboard. The first thing you have to think about is where you will be riding it and what will you be using it for. If you plan to use it only on sealed paths the street boards are lighter and most likely the better option or if you want to use it on grass and off-road surfaces then off-road boards will most likely suit you better. If you think you will be using it a lot and on both sealed surfaces and off road surfaces you can get one of our dual boards that allows you to swap the wheels between both street and off road wheels.
---